Kafa - Best Emerging Business Awards Winners
The creator of CBD Coffee Infusion has won the top prize in the GMIT New Frontiers Best Emerging Business Awards. Francis Bonner from Mayo has won €10,000, sponsored by KPMG, for his innovative technique of CBD infusion during coffee roasting.  Using GMIT lab tested, legal and safe coffee infusions, Kaffa supply Well Bean Coffee to cafés throughout the county.
Grow with Us
We are getting bigger! Our new extension will double the size of the Innovation Hub Galway to about 2,400 m2, providing space for an additional three dedicated MedTech R&D units; 17 incubation units for start-ups in the Software, Digital Tech, Connected Health sectors; a Co-Working space; an Events Space; Social Hubs; and, breakout meeting and networking areas. Come and grow with us! 
Where
GREAT BUSINESS IDEAS

take off

The iHub at GMIT Galway & Castlebar incubators provide high potential entrepreneurs and innovative start-ups with the business skills, networks, space and supports necessary to navigate the business start-up process from concept to successful commercialisation.
1300+
DIRECTLY SUPPORTED JOBS
€263M
Investment funding raised
74%
Still in business after 7 yrs
€3M
R&D Conducted with clients
Join Ireland West's leading Technology Companies at GMIT iHubs.
GMIT iHubs hosts two entrepreneurial programmes EMPOWER and New Frontiers.
EMPOWER is a female only programme targeted at females located in Galway, Mayo and Roscommon. Applicants can choose from two options, EMPOWER Start or EMPOWER Growth.
New Frontiers is Enterprise Ireland's national enterpreneur development programme for early-stage start-ups. The programme is ran over three phases and delivered in GMIT Galway and Mayo campuses.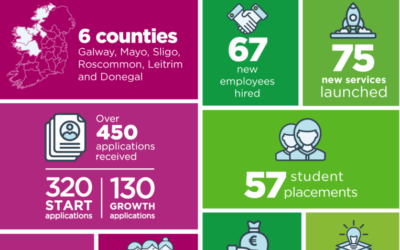 EMPOWER offers two separate programs, TÚS aimed at people who have a business idea they want to explore and FÁS (GROWTH) for entrepreneurs who are already in business and are looking to grow their business and to develop. EMPOWER has been on the scene since 2017, when...
Kyzentree Technologies has benefited hugely from the iHubs. The New Frontiers programme gave us the confidence and the platform on which to establish that the business was viable and the subsequent support was instrumental in securing funding. GMIT has provided us with two interns who have added significant value to our product offering. The location is just off the motorway and avoids the heavy city center traffic!
During our time at the Innovation Hub, Hillwalk Tours transformed from a tiny start-up of just two people to an award-winning organisation employing 16 people. This was no coincidence – the combination of working in an environment with other export-driven, like-minded entrepreneurs and the support and mentoring we received from George and his team have helped to drive us forward to achieve our potential